Matt Dango, a social studies teacher at Westbridge Academy, has brought his own curiosity and love of coding to his students, opening their minds to a new world of ideas – and careers.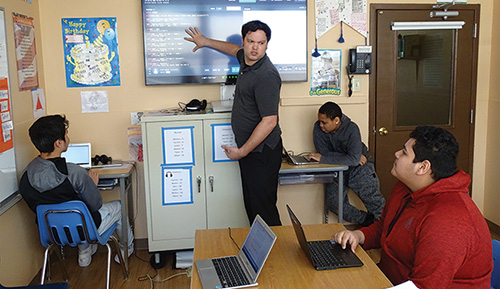 During Westbridge Academy's club periods, students use an online "code playground" that brings a new twist to traditional group-learning methods.
"Like other kinds of play, it encourages natural trial and error learning, and invites students to be 100% exploratory without the need to plan the outcome," said Matt.
He gave students a project – build a basic website that is all about them, with pictures, lists, drop down menus and other features. They learned basic layout, how to space, fonts (type face) and color palettes.
"Students have fun so it is an effortless learning experience. The interactive gameplay lets them work at their own pace, and engage with peers through both competition and collaboration," said Matt.
Matt's students are taking their curiosity home with them. Using resources he learned in school, one student taught himself Ruby, a beautiful and artful programming language used for web and other applications.
"This club activity introduces our students to computer careers that are portable and creative. And there are a million ways to use coding skills across the curriculum– it draws on math, science, language arts, reading, and art."