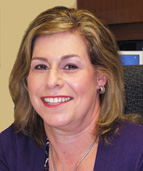 Dr. Viviana Litovsky has been at Westbridge Academy since 1981.  She has served as School Psychologist, Director of Clinical Services, Assistant Executive Director, and since 2001, as the Director.  She earned a doctorate in School/Community Psychology from Syracuse University.  She also holds two Masters degrees; one in Administration and Supervision, and another in School Psychology.  Dr. Litovsky is active in several professional organizations and is an avid patron of the Arts.
"Upon the subject of education… I can only say that I view it as the most important subject which we as a people may be engaged in."
– Abraham Lincoln
As Director, Dr. Litovsky oversees all operational functions, instructional and service programs of the school.  Building on a strong philosophical foundation based on data-driven, evidence-based best practices in psychology and education, she collaborates with the school principal and staff to establish innovative and educationally stimulating programs for students such as the award-winning "Operation: Good Neighbor."  She works with the clinical staff and Crisis Intervention team to produce the best possible outcomes for students and to ensure that the gains made are long-lasting ones.
Students report that they enjoy being at Westbridge Academy.  They point to having a comfortable sense of belonging, of fitting in while in school —sometimes for the very first time.  That core feeling is a key ingredient in strengthening both their academic and social skills as well as bolstering self-confidence.  The parents and grandparents, with whom the staff also works, view an education from Westbridge Academy as having a profound, long-term effect that prepares their child for a successful transition beyond high school.
Dr. Litovsky sets high standards for students, the faculty and herself.  She implements and provides staff training using her TIPS (Therapeutic Interventions for Psychological Success) model that empowers teachers and counselors to improve student behavior and maximize academic and emotional success.  She continually seeks out additional programs and services to enhance the school curriculum.  Most recently she invited Dr. Howard Knoff to present his nationally acclaimed Stop and Think Social Skills Training, a component of the Project Achieve model program, which has now been integrated with the school curriculum.
Dr. Litovsky is a licensed psychologist and also maintains a private psychotherapy practice for children, adolescents and adults using an eclectic treatment model individually designed for each patient to optimize outcomes.  Areas of specialization are child management/school performance, anxiety and depression, relationship issues, divorce, and work issues.