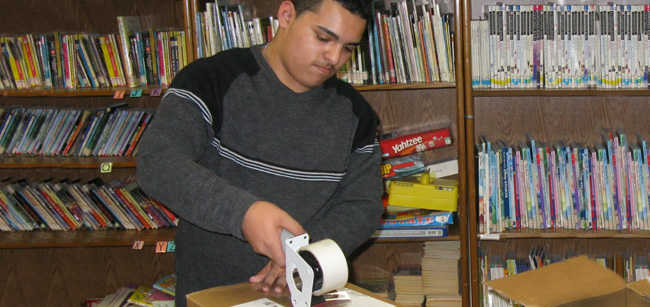 Preparing students for an independent future
"Education is the power to think clearly, the power to act well in the world's work, and the power to appreciate life."
– Bringham Young
When kids are young – that's the best time for them to start learning about the world and their place in it.  In fact, we believe the sooner children develop an understanding of how the world works and the many ways they can contribute to it, the more motivated they are to learn and embrace opportunities for themselves.
That's why Westbridge Academy offers a comprehensive program that helps students prepare for a vocation, starting with community and career awareness in kindergarten all the way to the preparation of workplace readiness skills in high school.
Our Approach
The Westbridge Works! program, which is headed by a trained career exploration teacher, encompasses other skill-building initiatives at the school.  These range from computer classes, where students learn to write resumes and business letters, to our "famous" cookbook project, in which students develop and write recipes and publish a cookbook.  The idea is to bring together all the different channels of learning through math, computer skills, art and teamwork, as well as cooking – in pursuit of real-world goals.  Just like adults do in life.  Students may also apply for "jobs" at the school to learn responsibility and gain work experience.  These jobs may include helping to serve lunch, filing or shredding documents, or tutoring younger students.
Field Trips
Specific vocation services include field trips to local businesses, visits to a nearby college to experience campus life, and a career fair held at the school each year, where professionals make presentations about their careers.  Participants include lawyers, graphic artists, nurses, police officers and military personnel, among others.
Meanwhile, younger students learn about the "real" world and how social networks function, from the classroom to the family unit to the community, to prepare them for the future.  In this effort, they learn how to handle money and bank accounts, navigate a bus schedule and read maps.  And they take field trips to the market, post office, library, and fire station to see how they work.
Community-Based Instruction Teaches Life Skills
When students attend our career fairs, they have the opportunity to apply what they have learned about interviewing and other job search skills.  Students in the older grades participate in a simulated work environment in which they respond to posted ads for jobs and submit resumes they created in the Computer Lab.  They will also have the opportunity to participate in mini-job experiences, where they work for a few hours at a local business and receive some training.
Community-based learning is all about grounding student experiences in real-world learning – including interpersonal interactions, organizational structures, personal responsibility, dependability, job satisfaction and teamwork – so they can go on to be successful in their lives.