Students who come to Westbridge Academy are typically referred for social, emotional and behavioral difficulties. Many times, these same students also have a history of academic difficulties that are rooted in reading disabilities or delays.
When a new student arrives, educators begin by assessing reading levels, and designing an instructional plan to move them from where they are, to where they need to be. Most students can be supported through intensive reading instruction in the classroom, but some need more help, and that is where Academic Support Coordinator, Milena Sillett comes in.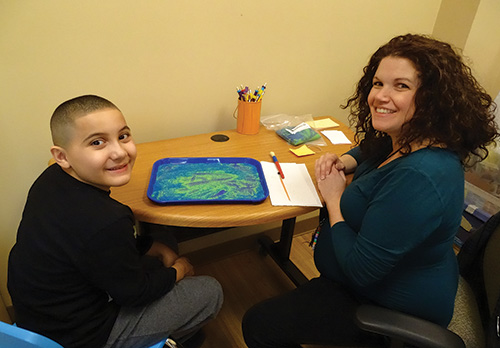 Working one-on-one with her students, Milena uses Orton-Gillingham-based instructional strategies, building skills… and confidence. She begins with a detailed assessment to identify skill levels, and then personalizes a plan that includes a combination of games, drills and repetition, and other activities to build awareness of sounds, blends and "rules for reading." Because multisensory learning is very important for students at Westbridge, Milena also uses hands-on activities with sand, play dough and locking 'Unitex' letter blocks.
"Our students need a lot of modeling and visual cues. As they are learning to read, they are also learning to follow directions, use a 'system' for learning, and stay on task. We are with them every step of the way, and build a firm foundation before we move on – limiting the opportunities for frustration and failure."
– Milena Sillett
The change can be transformative. One student, C.P., could read only a handful of sight words when the school year began. It was a huge source of frustration and anxiety for him. Now, he is reading 10 sentences and is incredibly proud of his accomplishments.
Many of Milena's younger students who are close to grade level can get back on track quickly with early intensive intervention. "We can actually prevent academic failure in the future," she said. "Once that foundation is in place, they can bring it into the classroom."
Milena works with the classroom teacher to "pre-teach" content so students are ready for new words and concepts that will be introduced in other subjects, allowing them to experience success.