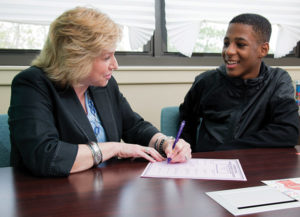 Dr. Viviana Litovsky, Director at Westbridge Academy, has been awarded the 2017 ASAH President's Award for her exemplary leadership and commitment to special education. Each year, ASAH selects a leader in the special education community who has made a lasting, positive impact on students, families and the community.
Driven by a lifelong passion to seek positive change in people's lives, Dr. Litovsky has been helping students and families at Westbridge Academy since 1981. As the school's Director, she collaborates with staff to establish innovative and effective programs for students, producing the positive outcomes and preparing them for successful transition beyond high school.
"Viviana exemplifies everything we strive for in leadership, compassion, educational and clinical excellence, and commitment to diversity," said Dr. Steven Morse, President of ASAH, a statewide association of more than 150 state approved special education schools.